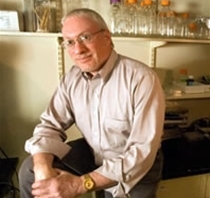 My office is in the SW corner of the Science Center. Feel free to stop by to talk.
Dr. Phillips' background
Jerry L. Phillips earned his B.A. in Chemistry from the University of Colorado at Boulder and his Ph.D. in Biochemistry from Colorado State University, Ft. Collins, CO. He then was a postdoctoral fellow of the American Cancer Society at the McArdle Cancer Research Laboratory (University of Wisconsin, Madison, WI). Dr. Phillips began his academic career at the University of Texas at San Antonio. He later moved to the University of Texas Health Science Center in San Antonio, Department of Medicine, Division of Oncology, as an Adjunct Associate Professor. He was also Senior Scientist and Director of the Phase I Drug Development Laboratory at the Cancer Therapy and Research Center. Phillips then moved to California, where he was a Research Scientist at the Pettis Memorial VA Hospital in Loma Linda, CA, and Research Professor of Pharmacology at the Loma Linda School of Medicine.

During his years in academia, Phillips taught a variety of courses in biochemistry and nutrition, and directed a well-funded, internationally-known research program. Phillips has published over 60 research papers, and presented his work in over 70 talks at national and international scientific meetings. He also has been an invited speaker at Universities and scientific meetings in the US, Europe, and Australia. One of his papers (J.L. Phillips, H. Lai, and N.P. Singh. Electromagnetic Fields and DNA Damage. Pathophysiology, 16:79-88, 2009) is among the most cited papers in that journal. Also related to his work as an academic research scientist, Phillips has testified before the United States congress, the California state senate, and various other regulatory bodies in the United States and Australia. As part of his commitment to service, Phillips has served on and chaired a variety of institutional committees. Among those are several high-levels committees, including departmental, college, and university promotion and tenure committees, and the VA hospital's Research & Development Committee, which reviewed and approved all research projects carried out within the Pettis VA Hospital.

In addition to his work in academia, Phillips has developed award-winning science curricula under contract to the Office of Science Education and the National Institute for Digestive Disorders and Kidney Diseases at the National Institutes of Health. Some of this work, particularly a project known as Diabetes Education in Tribal Schools, involved working with colleagues at 10 Native American Colleges around the US. Phillips' work was grounded in sound educational theory and helped students develop and deepen their understanding of concepts underlying important topics in science.

Phillips' background prepared him well for his role as Director of the Excel Science Center at UCCS. He has a unique combination of expertise and skills to make a very positive impact of UCCS students. He knows science and research and how to teach them. He knows about healthcare professions and how to guide students to become successful applicants. He knows about education theory and how to provide the best in academic support to our students.
Phillips also teaches martial arts. He has black belts in Karate (as it was known in the 1960s), Kung Fu San Soo, and Silat Tongkat (an Indonesian art). He has also trained in Brazilian Jiu Jitsu under Rigan Machado.